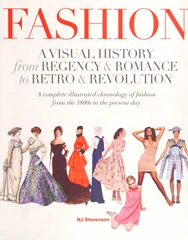 Fashion industry books, history of fashion pdf, fashion design books pdf. Hundreds of free online books.
On this page:
Also see our page on:
'Book Collections' and 'Vintage Books' are at the bottom

Fashion Design PDF Books – Fashion Industry Books
CORE BOOKS – Fashion, Clothing
Bigelow, Marybell S., and Kushino, Kay
Burgess 1979
Origins of body coverings and Mesopotamian garments (prehistory-500 B.C.) — Costumes of Ancient Egypt (3700-500 B.C.) — Dress of Crete (3000-1400 B.C.) — Garb of the Greeks (1500-150 B.C.) — Dress of the Etruscans (1300-251 B.C.) — How the Romans looked (700 B.C.-A.D. 476) — Dark Ages and before (8000 B.C.-A.D. 1000) — Elegance of Byzantium (A.D. 330-1453) — More medieval modes (A.D. 1000-1499) — Renaissance elegance (1400-1600) — Opulence of the Baroque (1600-1700) — Elegance of the Enlightened Age (1700-1795) — From revolution to empire (1790-1815) — Romanticism and the Industrial Age (1815-1870) — Impressionism and the Edwardian Era (1870-1910) — Costumes of the modern age of change (1910-1939) — Costume revolutions of the recent past (1940-1970) — Summary: the later years coupled to the past (1930-1970). Fashion design pdf books.
1950 – Present
Blanco F., Jose et al.
Greenwood 2008
Vol 1 is not available online. Vol 2 covers 1950 to the beginning of the 21st century. "This fascinating reference set provides two levels of information: descriptions of styles of clothes that Americans have worn and, as important, why they wore those types of clothes… The first half of each volume provides four chapters that each examine the impact that political and cultural events, arts and entertainment, daily life, and family structures have on fashion. The second half of each volume describes the important and everyday fashion and styles of the period, decade by decade, for women, men, and children." – Publisher.
Calasibetta, Charlotte
Fairchild 1975 Dewey Dec. 391
"Fairchild's Dictionary of Fashion presents clothing terminology from both historical and contemporary viewpoints. It is an invaluable tool for those interested in various aspects of fashion: designers seeking business in theater, film, opera, and TV production; newspaper, magazine, and advertising writers and editors; retailers, buyers, and salespeople." -Publisher.
Cosgrave, Bronwyn
Checkmark 2001 Dewey Dec. 391
"A definitive guide to the history of clothing and fashion. Featured are hundreds of major trends in historical context; discussion of social significance and implications; trivia; spotlights on accessories, makeup, hair, and footwear. Illustrated with more than 300 photos and drawings. Periods covered include: The Ancient Egyptians, Greece and Rome, Middle Ages, Early Renaissance, Sixteenth Century, Eighteenth Century, Nineteenth Century, Twentieth Century." -Book cover. Fashion design pdf books.
Crowe, Lauren Goldstein and Maceira de Rosen, Sagra
Bloomsbury 2009 Dewey Dec. 391
"The story of a London society girl named Tamara Mellon who launched one of the most talked about luxury brands in the world. More than simply a well-told tale of glamorous, troubled people, The Towering World of Jimmy Choo taps into America's seemingly insatiable appetite for luxury goods and examines an industry that has experienced explosive growth in just the past decade." -Publisher.
DeJean, Joan E.
Free Press 2005 Dewey Dec. 391
"What makes fashionistas willing to pay a small fortune for a particular designer accessory — a luxe handbag, for example? Why is it that people all over the world share the conviction that a special occasion only becomes really special when a champagne cork pops — and even more special when that cork comes from a bottle of Dom Pérignon?
One of the foremost authorities on seventeenth-century French culture provides the answer to these and other fascinating questions in her account of how, at one glittering moment in history, the French under Louis XIV set the standards of sophistication, style, and glamour that still rule our lives today." -Publisher.
Hartsog, Debbie
Allworth 2007
Fun and entertaining, Creative Careers in Fashion reveals how the fashion industry works—and explores the vast range of career opportunities in the field. Focusing on the most creative jobs, including accessory, costume, and fashion design, as well as make-up artists, wardrobe consultants, textile designers, and colorists, this book showcases the practical information that will help readers find the perfect job and get it. Included are details on salary ranges, educational and experience requirements, where jobs are located, and new trends.
Kelly, Clinton and London, Stacy
Three Rivers 2005 Dewey Dec. 391
The hosts of the TV show "What Not to Wear", "Clinton Kelly and Stacy London, offer spot-on fashion wisdom—with an attitude—in this fully illustrated, authoritative, and irreverent fashion guide to dressing your best for every occasion. Clinton and Stacy's surefire method for boosting appearance rests on their belief that we can all win admiring glances by selecting clothes that play up our positives and create a balanced body shape." – Publisher.
Laver, James
Abrams 1969 Dewey Dec. 391
Vagaries of fashion through the ages presented for the general reader by a British scholar. Fashion industry books.
Le Bourhis, Katell, ed.
Metropolitan Museum of Art 1989
On the costume history of the period, the ecclesiastical and military garb, jewelry, silk weaving, Napoleon's own wardrobe, and the influence of French fashions in America. This work accompanies a major exhibition at The Costume Institute of The Metropolitan Museum of Art from December, 1989 to April, 1990.
Nunn, Joan
New Amsterdam 2000
Joan Nunn's detailed survey of costume in the Western world over the past eight centuries. She not only gives the reader a vivid visual impression of the clothes themselves, but also outlines the historical and social background and the changes in manufacturing techniques and fashionable life that have influenced the way costume has developed and the manner in which it has been worn. The book is illustrated throughout with hundreds of line drawings. This history of American and European costume covers men's, women's, and children's dress, accessories and jewelry, fabrics, and color. Discusses how historical, social, economic, and artistic events influence fashion.
Oliver, Valerie B.
Greenwood 1996
Providing a convenient and unique look at fashion and costume literature and how it has developed historically, this volume discusses monographic and reference literature and provides information on periodicals, research centers, and costume museums and collections. Of interest to scholars, students, and anyone curious about the unique power clothing holds in our lives.
Paterek, Josephine
ABC-CLIO 1994
Paterek describes "the clothing used for everyday, war, rites, and ceremonies for men, women, and children in hundreds of tribes in diverse climates stretching over centuries. Well-organized text and 400 drawings and authentic photos plus the cultural essays prefacing the 10 regional groupings and each tribe put the costumes in historical, social, and geographic context.
Peacock, John
Thames and Hudson 1986 Dewey Dec. 391
"A complete guide to English costume design and history" -Cover.
Snyder, Rachel Louise
Norton 2008
Rachel Louise Snyder reports from the far reaches of the multi-billion-dollar denim industry in search of the people who make your clothes. From a cotton picker in Azerbaijan to a Cambodian seamstress, a denim maker in Italy to a fashion designer in New York, Snyder captures the human, environmental, and political forces at work in a complex and often absurd world. Neither polemic nor prescription, Fugitive Denim captures what it means to work in the twenty-first century.
Stevenson, N. J.
St. Martin's Griffin 2012
A complete illustrated chronology of fashion from the 1800s to the present day. The start of the 19th century marks the dawn of the designer, a sartorial influence that became a star-studded industry. Fashion: A Visual History charts those points in time when distinctive styles that began as extravagances of the very rich permeated through well-dressed society until a cut of cloth or choice of accessory defined fashion.
Wilcox, R. Turner
Dover 2004
"This profusely illustrated study focuses on more than 500 years of clothing styles worn by people of the Americas — from animal hides in the 9th century to suits for both sexes in the mid-20th century. A brief, introductory chapter describes and depicts the everyday wear of Vikings, Mayans, Aztecs, Incas, and principal North American Indian tribes. Subsequent sections are devoted to the many and varied costumes of the Spanish, Portuguese, English, French, German, and Scandinavians who came after them. Military uniforms from the 16th to the mid-20th century are also portrayed, and civilian dress for men, women and children is reviewed during the same five centuries." -Publisher.

BOOK COLLECTIONS – Fashion
This collection of about 1,700 books on the Internet Archive includes Fashion, Clothing, and Costume History. Books include: Historical Encyclopedia of Costume, Historic Dress in America 1607-1800, Five Centuries of American Costume, Survey of Historic Costume, Medieval Costume and Fashion, Complete History of Costume & Fashion, Concise History of Costume and Fashion, Costume History and Style, Costume Patterns and Designs, The Book of Costume, Encyclopedia of Clothing and Fashion, Fashion Dictionary, Vogue History of 20th Century Fashion, History of Fashion, History of Women's Costume, History of Costume, Shoes Hats and Fashion Accessories, Costumes for the Stage, 50 Years of British Fashion, 18th Century Clothing, Fashion in Costume 1200-2000, Pictorial History of Costume, and many more.
About 280 free books about women's clothing, style, and fashion. Some books: Woman's Guide to Style, What You Wear Can Change Your Life, Dress Thin! 330 tips, New Women's Dress for Success, Career Chic: what every woman should know about getting ahead in style, The Sensual Dresser, Dressing Nifty after Fifty, Harper's Bazaar Fabulous at Every Age, What to Wear Where, Women's Costume in Ontario (1867-1907), Bad Shoes and the Women Who Love Them, What Not to Wear, many more. Fashion design pdf books
About 100 free books about men's clothing. Titles include: Color for Men, 365 Style and Fashion Tips for Men, A Well-Dressed Gentleman's Pocket Guide, A Gentleman's Wardrobe, Fashion Design Illustration: Men, Men's Fashion in the 20th Century, more .
16 books at HathTrust on clothing, from about 1930-1960. Includes home economics textbooks, fashion guides, an other books related to the selection, care and wearing of clothing. Fashion design pdf books.
38 books at Hathi Trust published from the early 1800s to the mid-1900s on fashion and clothing. Includes histories of fashion and costume for England, America, and France.
About 2,400 free books on Fashion, Fashion Design, the Fashion Industry, and Careers in Fashion. Books include: Fashion, Fashion Buyer, Fashion Industry, Fashion Designer, Fashion Photographer, Fashion Design, Fashion China, High Fashion, Illustrated History of Fashion, The Fashion Industry, City Fashion Berlin, New York Fashion, Dictionary of Fashion and Fashion Designers, Fashion Design Course, Fashion Art for the Fashion Industry, Fashion Careers Guidebook, Careers in Fashion Retailing, Fashion Merchandising, Fashion Advertising & Promotion, Fashion Culture and Identity, Fashion People, Atlas of Fashion Designers, Fashion Model, Hepster Fashion, Paris Fashion; a Cultural History, and many more.
See our collected articles on Victorian fashion
About 330 Fashion Design free books from the Internet Archive. Some books: The Great Fashion Designers, The Visual Dictionary of Fashion Design, Dressmakers of France, The Supermodern Wardrobe, Fashion Makers Fashion Shapers, The Theory of Fashion Design, Costume Design and Making: a practical handbook, Elegantly Frugal Costumes, Women I have Dressed (and Undressed), Handbook of Costume Drawing, Techno Fashion, many more. Fashion design pdf books.
About 1,300 free online Costume books. Books include: Historic Costume for the Stage, Costumes to Make, Theater Crafts Book of Costumes, Costume throughout the Ages, 5,000 Years of Fashion, Costumes and Clothes, Costume Design, Stage Costume Design, Children's Costumes, History of English Costume, International Directory of Historical Clothing, Folk Costumes of the World, Costumes of the Greeks and Romans, Historic Dress in America, How to Make Historic American Costumes, Folk Costumes of the World, History of Costume, Two Centuries of Costume in America, Making Medieval Costumes, and many more.
About 10 free "Ethnic Costume" books. Some books: Ethnic Folk Costumes in Canada, Ethnic Dress, A Pictorial History of Costume, Bulgarian Folk Costumes, Dress Clothing of the Plains Indians, Belly Dance Book, Folk Costumes of the World, Dress and Ethnicity: change across space and time, Make Your Own Japanese Clothes, the Worldwide History of Dress, The 1960s and 1970s, more. Fashion design pdf books.
About 80 free online books on the subject of "Fashion History 20th Century". Books include: Vogue History of 20th Century Fashion, Guinness Guide to 20th Century Fashion, History of 20th Century Fashion, A History of Fashion and Costume, 100 Years of Art & Fashion, Fashion; a Canadian Perspective, Fashion in the '30s, Collecting Fashion & Accessories, Fashion Source Book, Art Deco Fashion, Changing Styles in Fashion, Fashion Costume and Culture, Fashion from the Birth of Couture, 50 Years of British Fashion, 20th Century Teen Culture, History of Haute Couture, Clothing through American History, Women's Costumes, Men's Costumes, The 1920s Style, The 1920s & 1930s, The '40s & '50s, Fabulous Fashions of the 1980s, Modern French Couture, and many more.
Over 880 free online Jewelry books. Some books: The Art of Jewelry Design, Buying Jewelry: everything you need to know, Junk Box Jewelry, Jewelry through the Ages, 50 Years of Collectible Fashion Jewelry 1925-1975, Creating Beaded & Wire Earrings, Marketing and Selling Your Handmade Jewelry, Making Fantastic Jewelry, Jewelry & Accessories: beautiful designs to make and wear, Jewelry of the Ancient World, Crafting Turquoise Jewelry, many more.
Mademoiselle magazine back issues online
VINTAGE BOOKS – Fashion, Clothing
38 books at Hathi Trust published from the early 1800s to the mid-1900s on fashion and clothing. Includes histories of fashion and costume for England, America, and France. Fashion design pdf books.
Earle, Alice Morse
Macmillan 1903 Dewey Dec. 391
Costume, United States — Social life and customs — To 1775. Fashion industry books.
Holt, Ardern
Scribner 1896 Dewey Dec. 391
Costume — History — 18th century — Great Britain, Costume, Costume — Dictionaries — Great Britain.
Holt, Ardern
Scribner 1898 Dewey Dec. 391
Men's clothing — History, Costume. Fashion industry books.