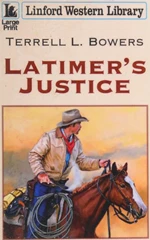 Western books free, free cowboy books, western novels pdf, western light novels.
"Fiction" in the menu at the top of the page will take you to the other genres.
If you're using a phone or tablet, click to see our advice for viewing 'Collections'
Try searching for books by author. In the search bar in this link, in the creator field, replace LAST, FIRST with the author's name. Save books you like to your Internet Archive account by clicking "Favorite" while logged in.

Western Books Free – Free Cowboy Books
About 2,600 online western fiction books readable at the Internet Archive. Some western fiction authors here are: Louis L'Amour, Richard S. Wheeler, Linda Howard, Charles Portis, Larry McMurtry, Johanna Lindsey, C. C. Post, Dee Henderson, T. T. Flynn, Ralph Compton.
About 500 free Western fiction books to read at the Internet Archive. Some top western fiction authors here: Lauran Paine, Loren D. Estleman, Winston Graham, Matthew P. Mayo, Robert B. Parker, Peter Brandvold, Tabor Evans, Wayne D. Overholser, Brian Hart, Diane Whiteside, Louis L'Amour, Frank Roderus, Will Henry, Kerry Newcomb. Western fiction genre.
About 500 free online novels on the theme of Frontier and Pioneer Life. Most are set in the U.S., but not all in the West. These are sorted alphabetically by title. You may wish to re-sort them, by 'View', by 'Date Published', or by 'Creator' (author). Some authors: Laura Ingalls Wilder, Elizabeth George Speare, Louis L'Amour, Susan May Warren, Annie Proulx, Wilbur Smith, Reeve Lindbergh, Lauraine Snelling. Frontier and Pioneer Life novels.
About 1,600 free cowboy fiction books. Some bestselling western authors here: Laura Stone, Brenda Harlen, Max Brand, Stacey Lee, Stella Bagwell, Crystal Green, Loren D. Estleman, William Johnstone, Normana Fox, Terry Thomas, Will DuRey, Dorothy Garlock, Suzanne Brockmann, Pam Crooks, Scott Connor, Roy Patterson. Western fiction novels.
About 35 free online Western novels with Wagon Trains. Some authors here: Susan Paige Davis, Kent Conwell, Wayne C. Lee, Vickie McDonough, Emerson Hough, Renee Ryan, Sharon Lee Thomas, Chad Merriman. Wagon Train novels.
About 770 free online novels with Outlaws, most of which are Westerns. Some authors here: Charles Portis, Tabor Evans, Paige Winship Dooly, William W. Johnstone, Larry McMurtry, Susan Page Davis, Jack Ballas, Duke Patterson.