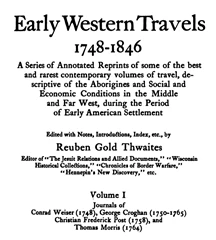 This 32-volume collection of journals and accounts by explorers and travelers in the American west was published over a 3-year period beginning in 1904 by Reuben Thwaites, as Secretary of the Wisconsin Historical Society.
Accounts of travel to the Great Lakes region are included in::
Volumes 1-5
Volume 6 (Brackenridge)
Volume 8 (Evans)
Volumes 9 -12
Volume 19 (Ogden and Bullock)
A series of annotated reprints of some of the best and rarest contemporary volumes of travel: descriptive of the aborigines and social and economic conditions in the middle and far West, during the period of early American settlement / edited with notes, introduction, index, etc., by Reuben Gold Thwaites.
Thwaites, Reuben G., ed.
Cleveland: Arthur H. Clark Company, 1904-1907