Search for books online; how to find free online books. A guide for finding the titles you want, free online, fiction and nonfiction.
Includes help in finding magazines, magazine articles, and newspapers.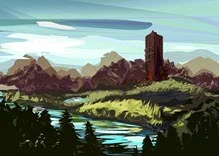 Welcome to the Old World of the Internet
It is a cliché to note that the Internet has opened a New World to anyone with a connection to it. But the Internet hasn't only made this New World available. A dedicated community of individuals and organizations is also making the Old World of print publications live again, by putting them online. When you know how to find free online books, you can access millions of books and other printed materials that are the product of centuries of culture around the world. Below, I'll try to help you gain access to this resurrected Old World of print publications.
Free Books, Magazines and Newspapers are Online
Most publications produced over the past few decades have been 'created digital'. This article is, however, focused on print media that preceded this recent digital era; materials originally produced on paper that have now been scanned and saved to free online digital archives. You'll find in this article some useful sites and suggested approaches for finding such older materials on topics that interest you. The approaches vary, depending on what type of publications you're seeking, and depending on whether they are in the public domain.

The Public Domain: What is it? Why does it matter?
Published materials are more likely to be found free and online if they're in the public domain. If an item is in the public domain, it is not protected by intellectual property laws such as copyright, trademark, or patent laws. The public owns these works, and anyone can use them without obtaining permission.
In the U.S., nearly all books published before 1924 are now in the public domain. Also, some more recent books have been placed in the public domain by their owners. This includes many publications of government offices (local, state and federal). In recent years the Open Access movement has encouraged some authors and publishers to place their brand new publications in the public domain.
Many organizations have been scanning public domain books and magazines and loading the digital files into archives to make them available to the public free, via the Internet. This article covers some of the biggest such archives, which together offer millions of titles.

Publications Not in the Public Domain: Are they available Online?
Most books and magazines published since 1924 are still protected by copyright. A large fraction of such books (not magazines) have been made available for reading online by Internet Archive and its sister site Open Library. They use the same approach as many public libraries that lend books online; they offer one or a few copies of a particular book, each of which can be 'checked out' by only one registered user at a time. As with the library services, a user may need to wait weeks to gain access to an especially popular book. This contrasts with the sites' public domain books, which can be accessed by any number of users immediately.
Periodicals still under copyright are not included in the Internet Archive lending collection, but there are various other locations where magazines published since 1924 are available. For periodicals, skip past the book section on this page down to:
or to
Books: Search for Books Online about a Topic
There are two basic approaches:
1. – Browse online book websites that are organized by subject, or;

2A. – Use search engines to find suitable books on a topic, and/or
2B. Use bibliographies to find book titles. Then search the online archives for any book titles you found in 2A or 2B.

1. Browse Online Book Collections Organized by Subject. Some Options:
Century Past Library is one of the collections on the website you're on now. It is designed for users who wish to browse for books by subject. It contains links to public domain books in many online archives, and links to non-public domain books in the lending collection of Internet Archive. There is a wide diversity of subjects, with especially large collections in U.S. and European History, History of the U.S. Great Lakes States, and Native Americans. Most book entries include descriptions.
Most links in this very large site appear to open books in the HathiTrust archive (see below). You have three ways to search for books online on your topic: Type a subject into the search box, browse an alphabetical index of subjects, or use the Library of Congress call number system.
Currently this collection holds more than 1.7 million books; 90% of them in English. You can search for books online within the collection from the search box. Or you can scroll down to "Topics & Subjects" in the left column, click on "More", and find 50 pages of topics with the number of books for each topic shown. When working with this collection you will sometimes need to be patient while you wait for results, as very large numbers of books are being filtered in searches.
You can search for a subject, or browse by going to the left column and clicking on one of the options under "Collections with at least XX Items". There are well over 4,000 collections. Check the box for "Full View Only" so your search results include only the books that you can open. Collections were assembled by users, often for their research projects.

2A. Search for Books Online by Carrying Out out a 'Subject Search' for Book Titles
Suppose you have a topic in mind and you would like to search for book titles on that topic, determining later whether they are available online. You can use online search engines to find those titles, or you can search for bibliographies. Here are options for both approaches:

Search Engines:
Contains a huge number of books published in the U.S. and elsewhere in the 19th and early 20th centuries, and the online subject search tool is uncomplicated. Use the 'advanced' mode to limit results by date and language. Sometimes search results conveniently include a link to a digital version of a public domain book at Internet Archive. If the book contains a bibliography, entries will usually note that fact.
Claims to be the "world's largest library catalog". Its primary purpose is to find physical books and materials at libraries near your location, but it is very useful for identifying titles. As a bonus, when you click on the entry for a single book and scroll down, you may find a description of the book, or a list of chapter headings.
HathiTrust's index contains books housed in its digital archive as well as many titles that aren't, so it works well in a search for titles. Leave the option "Full View Only" UNCHECKED.

2B. Finding Bibliographies on a Subject
You probably won't find all the books available via online subject searches. If you're seeking a more comprehensive list of books on a topic, or looking for a list of books recommended by a specialist in that field, you'll want bibliographies.
Some bibliographies are published as reference books, but most are found near the end of non-fiction books. You're most likely to find thorough bibliographies on a topic in books by academic authors.
Century Past Library can be useful for this. You can start at the Century Past Library Subject Directory, and browse through pages on broad subject areas. Or you can drill down to more specific subjects with our A-Z Century Past Subject Index.
If you found book titles using search engines, you may then need to look for some of those in online archives to see if they contain bibliographies. Book entries in the LOC Online Catalog (2A above) often mention if a bibliography is included.
3. Using a Book Title to Search for Books Online:
For book searches, I go first to Internet Archive for several reasons. If a title is not found on Internet Archive, I usually check HathiTrust next. My third choice is Google Books.
Using the Search Engines at the Online Archives
User's Guide to HathiTrust – 24 page guide, with screenshots. A helpful guide to all HathiTrust's features.
At the Search Results Screen:
At the top left corner you can choose between "All Items" and "Full View". Select "Full View" to see only the items fully available online ( in the public domain). Select "All Items" to also find titles under copyright and not available to you at HathiTrust online. They might be available at Internet Archive or Google Books.
Click "Full View" under an entry to open the item in an online viewer.
Most books at HathiTrust cannot be downloaded by users, except researchers 'affiliated with partner institutions'. 'Guest users' (you) can download only one page at a time. To copy passages into the clipboard, switch to 'Plain Text' mode, using the button on the right side.
Subject Searches
The basic search engine is a bit fussy, so below are tips for getting good search results. There is also an advanced search engine, which I find a little intimidating. Even a careful subject search here would probably not reveal all the relevant items housed at Internet Archive. You may wish to use the search engines recommended above to find book titles, and then return to Internet Archive and search for the titles.
Books for Lending
You may find a book at Internet Archive not in the public domain that is available for borrowing, but currently checked out to another user. You can join the queue and you'll be automatically notified when the book is available. But first, see if there are more copies available at Internet Archive by searching for the book's title.
To find books in this online archive you can use the search tool either at Google Search or Google Books. Results in the latter are limited to materials contained in Google Books' archive.
Google Books exists mainly for Google to sell books, and many or most books found there are not free. However, the Google Books search engine works well for subject searches, and entries for books for sale often enable you to see a chapter or more in preview mode.

For free books, download options vary. Some books allow only PDF or plain-text download, while some books provide options for e-reader formats. The options are found at the gear icon at the top right corner.


Magazines: Find them Online
Check the Magazines Online page at Century Past Library first. There are over 350 titles. Each magazine title entry has links for all the issues that were found available online. If you don't find your magazine there, try (in order):
I recommend Internet Archive last because a search returns scattered individual issues of a magazine rather than a series of issues in a group.


Newspapers: Find them Online
There are many large free online archives of newspapers in the U.S., Canada, and some other English-speaking nations. You can find links to them, along with website directories for online newspapers, at our Newspaper Archives page on Century Past Library.