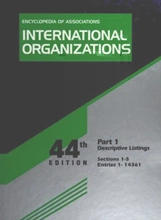 Organization directories pdf, association directories pdf, foundations, museums; U.S. and international. Free online.

Directories of Associations and Organizations Free Online
American Association of Museums
American Association of Museums 2007 Dewey Dec. 069
This directory contains "listings on more than 8,100 museums operating in 87 different fields, ranging from science museums to zoos to historic homes to fine arts. It is one of the most trusted and accessible sources for museum professionals to identify vendors, access unique collections and exhibitions, and contact directors and curators. Volume 1 lists institutions by state, and contains a number of indexes: an alphabetic index to institutions, an index to personnel, an index to institutions by category, an index to institutions by collection, and new listings. Volume 2 is a guide to more than 2,100 vendors, their products, and their services, subdivided by category. . . .
National Organizations of the U.S.
Swartout, Kristy A.
Thomson Gale 2010 Dewey Dec. 061
49th Edition. A guide to more than 24000 national and international organizations, including: trade, business, and commercial; environmental and agricultural; legal, governmental, public administration, and military; engineering, technological, and natural and social sciences; educational; cultural; social welfare; health and medical; public affairs; fraternal, nationality, and ethnic; religious; veterans', hereditary, and patriotic; Hobby and Avocational; athletic and sports; Labor Unions, associations, and federations; chambers of commerce and trade and tourism; Greek letter and related organizations; and Fan Clubs.
Vol. 1, Part 1: (Sections 1-6) Entries 1-10909.
Vol. 1, Part 2: (Sections 7-18) Entries 10910-24107.
Vol. 1, Part 3: Name and Keyword Index (includes Association Addresses and Phone Numbers).
Vol. 2: Geographic and Executive Indexes.
International Organizations
Atterberry, Tara E., ed.
Thomson Gale 2007 Dewey Dec. 061
44th Edition. A guide to more than 32,000 international nonprofit membership organizations including multinational and binational groups, and national organizations based outside the United States, concerned with all subjects or areas of activity.
Part 1: Descriptive listings. Sections 1-5; Entries 1- 14361.
Part 2: Descriptive listings. Sections 6-15; Entries 14362- 32115.
Part 3: Indexes.
Gladman, Anthony
Routledge 2007 Dewey Dec. 060
"A unique source of comprehensive and reliable information on the academic world. The fifty-eighth edition contains full directory details for over 30,000 universities, colleges, schools of art and music, libraries, archives, learned societies, research institutes, museums and art galleries in more than 190 countries throughout the world. Every important library is covered, with details of the number of volumes held and outstanding features of the collection. New for the first time, this edition contains a series of introductory surveys in every chapter. Selected chapters also feature a new directory section covering regulatory and representative bodies in the higher education sector" – Publisher
Jacobs, David G.
Foundation Center 2012 Dewey Dec. 061
The premier guide to America's top funders. The new edition features key facts on the top 10,000 U.S. foundations by total giving–indexed by name, types of support, subject field, state, key officials. For ease of access, over 1,100 entries new to this edition are also indexed. Enhanced with more than 50,000 sample grants, the Directory provides valuable insight into foundation giving priorities. (description of 2008 edition).
"Provides detailed information concerning independent, corporate, community, and private foundations with assets of at least $2 million or annual giving of at least $200,000. Geographical arrangement. Entries give date founded; names of officers, contact, and donors; foundation type; financial data; fields of interest; types of support; limitations; application information; and number of staff. Six indexes: Donors, officers, and trustees; Geographic; Types of support; Subject; Foundations new to edition; Foundations name index." Guide to Ref Books
Routledge
Routledge 2008 Dewey Dec. 061
Containing detailed information on more than 2,300 institutions, this title includes international foundations, trusts, charitable and grant-making NGOs and other similar non-profit institutions. Features include:
* introductory essays such as: Foundations and the Third Sector in International Perspective; Foundations and Global Change and A Journey Without Borders – Researching and Applying to Foundations
* entries are arranged alphabetically by country with main foundation centres/co-ordinating bodies listed under a separate heading at the beginning of each chapter, followed by the charities, NGOs and foundations
* each entry contains the institution's name, postal, internet and e-mail addresses, telephone and fax numbers, together with full details about the foundation including, date of establishment, and details of the organization's function, activities, restrictions on grants, geographical area of activity, finances, publications and key executives
* foundations are fully indexed, alphabetically, by geographical region of activity and by their main areas of activity.
A wide range of activities are covered, including aid to less developed countries, the environment, education, the arts and humanities, and medicine and health. To ensure that information is accurate, each organization has been contacted to update their own details.
Sheridan, Valerie S.
Columbia 2009 Dewey Dec. 061
"Includes nearly 6500 organizations arranged by subject. Indexed by title, key word, geographical location, size of budget, and executive officers. Particularly valuable for its data on the annual budget as well as such general information as date of establishment, address, headquarters staff, size of membership, publications, and telephone number." -Ref Sources for Small & Medium-sized Libr.
Sheridan, Valerie S., ed.
Columbia 2007 Dewey Dec. 061
19th Edition. Lists 8,169 trade associations, professional societies, labor unions, and similar groups representing members on a statewide or multi-state level. For each organization the directory contains (to the extent possible); representative name(s) and title(s); organization size, history and program; publications; and meetings and conventions.
Directories of associations, foundations, learning institutions, and museums free online. Includes international, U.S. national, U.S. State and regional associations.