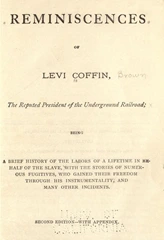 The list below includes books and articles on the site's Illinois and Indiana pages. This site has similar resources for Ohio, Wisconsin and Michigan, so please check the same subject pages for those states, which you can reach from History of the Great Lakes States.
Some of the histories found on the each state General History webpage contain a chapter or two on slavery as a political issue. You may wish to check the 'Tables of Contents' of volumes covering the 19th century prior to the Civil War.
The Slavery Issue & the Underground Railroad: Books and Articles for Illinois and Indiana
Grierson, Francis, The Valley of Shadows

See our Books on African American History
Smith, Theodore Clarke, The Liberty and Free Soil Parties in the Northwest

See our collection of Articles about African American Issues in the Early 20th Century
Harris, Norman D., History of Negro Slavery in Illinois and of the Slavery Agitation in that State
Tanner, Henry, The Martyrdom of Lovejoy

See our African American Magazines
Coffin, Levi, Reminiscences of Levi Coffin, the reputed president of the Underground railroad etc.

Dunn, J. P. Jr. Indiana: A Redemption from Slavery

See our African American Novels
Cockrum, William M., Col., History of the Underground Railroad as it was Conducted by the Anti-slavery League etc.
Elliot, Helen, "Frances Wright's Experiment with Negro Emancipation"
Federal Writers Project, Slave Narratives: A Folk History of Slavery in the United States from Interviews with Former Slaves: Indiana Narratives

See our collected Articles about African American History
Hart, Albert Bushnell, Slavery and Abolition 1831-1841