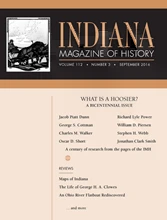 Indiana newspapers historical, Indiana history journals and magazines. Periodicals collections. Free online.

Indiana History Magazines & Journals – Collections
Vols 1-9, 1916-1922
Indianapolis: Indiana Historical Commission
Vols. 1 – 7, 1897- 1920
Indianapolis: Indiana Historical Society
Vols. 1 – 107, 1905-2011
Bloomington, IN: Indiana University
Read old newspapers online free at Century Past
Vols 1-6, 1984-89; Vols 16, 19, 20, 22, 25, 1999-2008
Terre Haute: Indiana State University

Indiana Newspapers Historical
Jan 1828- Dec 1829. New Series: Jun 1834 – Jun 1836
New Harmony, IN: Working Men's Institute
An Owenite newspaper.
The Freeman – Indiana Newspapers Historical
July 21, 1888 – Feb. 5, 1910
Indianapolis, IN
Jul 1841 – Apr 1853
Indianapolis: Chapman
Free cooking books pdf here at Century Past
Plymouth Pilot – Indiana Newspapers Historical
1851-52
Plymouth, IN: Howell
Jul 1856 – Sep 1860
Terre-Haute, IN: Dowling
January 1856 – Dec 1858 (weekly)
Warsaw IN: Samuel Brenton

Indiana Historical Newspapers – Collection Websites
Library of Congress
Chronicling America Historic American Newspapers
This site at the Library of Congress has a very large collection of historic newspapers from every state in the U.S. In addition to the digitized newspapers, they provide information about other historic newspapers not in their digitized collection. For that database, use the tab "US Newspaper Directory, 1690-Present".
LibGuides
Bowling Green State University Libraries
This page of BGSU's LibGuide (Library Research Guide) has links to free online newspaper collections for all states beginning with I. Scroll down for the Indiana collection.
The Ancestor Hunt is a very large site with a page of newspaper links for each U.S. state. The Indiana page contains numerous links to free historic newspapers, and includes links to individual newspapers within major collections such as the Library of Congress American Memory and Indiana State Library's Hoosier State Chronicles.
Indiana State Library
"Indiana's Digital Historic Newspaper Program". Operated by the Indiana State Library, it provides free online access. The same issues are available at the Library of Congress collection, "Chronicling America". As of November 2018, the collection had nearly 125,000 issues with 950,000 pages.