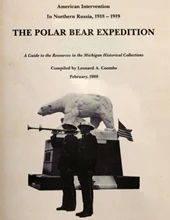 Michigan historical records, Michigan state historical documents. Free online copies of important documents in Michigan history. Historic documents include:
State Constitution of 1835
State Constitution of 1850
Land Grant from Ottawa & Chippewa Nations 1786
Admission of Michigan into the Union 1836
Document Collections and Guides include:
Polar Bear Expedition to Russia 1918-1919
'Primary Source Set' for Michigan History Teachers
Papers of Michigan Territory 1805-1837
Michigan State Historical Documents of Michigan
In an Act approved on January 11, 1805, Congress detached Wayne County from Indiana Territory and made it into the Michigan Territory.
U.S. Congressional Act, March 2, 1836.
Looking for an old newspaper online? Try our Newspapers page
Michigan Historical Collections Vol. 24 (1894): pp 27-29
Lansing: Michigan Historical Commission
Ottawas and Chippewas ceded land from the Detroit River to the Canard River, including Bois Blanc Island. Includes the pictographs or totems of five chiefs.
Document Collections for Michigan History
American Intervention in Northern Russia, 1918-1919; A Guide to the Resources in the Michigan Historical Collections
Coombs, Leonard A., comp.
Ann Arbor: Michigan Historical Collections, University of Michigan 1988
In late 1918 about 5,000 troops from units of the U.S. Army's 85th Division, which was composed largely of men from Michigan and Wisconsin, were shipped from England to Archangel, Russia. There they joined an international force commanded by the British that were fighting the Bolsheviks, who had taken power in Moscow and St. Petersburg the previous winter. For many years the Michigan Historical Collections actively collected the personal papers of officers and enlisted men who participated in that intervention. This is a guide to papers, photos, maps and printed materials in the collection.
Library of Congress
Library of Congress TPS-Barat
Digitized primary sources that includes images, maps, sheet music, books and articles, newspapers, more. TPS-Barat: The Library of Congress Teaching with Primary Sources (TPS) program works with an educational consortium of schools, universities, libraries, and foundations. The mission of the Primary Source Nexus is to serve as an online community support resource for the TPS-Barat program.
Harlequin romance novels online free
Powers, Thomas E. and McNitt, William
Ann Arbor: University of Michigan 1976
This is a guide to the University of Michigan's collection of records, papers and printed materials related to the University of Michigan and to the history of the State of Michigan. As of the date of this guide, that collection included 20 million manuscript items, 30,000 printed items, and 200,000 photographs.
Vexler, Robert I.
Oceana 1978
Find a high school American history textbook pdf at Century Past
Carter, Clarence Edwin and Bloom, John Porter, eds.
Washington: National Archives 1934 – 1975
Volumes for the Great Lakes region are:
Vol 1. General
Vol 2. The Territory Northwest of the River Ohio, 1787-1803
Vol 3. The Territory Northwest of the River Ohio, 1787-1803 continued
Vol 7. The Territory of Indiana 1800-1810
Vol 8. The Territory of Indiana 1810-1816
Vol 10. The Territory of Michigan 1805-1820
Vol 11. The Territory of Michigan 1820-1829
Vol 12. The Territory of Michigan 1829-1837
Vol 16. The Territory of Illinois 1809-1814
Vol 17. The Territory of Illinois 1814-1818
Vol 27. The Territory of Wisconsin, Executive Journal, 1836-1848; Papers, 1836-1839
Vol 28. The Territory of Wisconsin 1839-1848