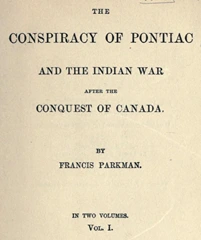 As a boy I visited Fort Michilimackinac and learned how the Indians, playing a ball game next to the fort in 1763, used a ruse to get warriors inside the gate. They then attacked the British garrison and took the fort. This was just one of many similar attacks on British forts in the region that were carried out in the spring of 1763.
Native Americans tried, through subterfuge or frontal attacks, to take a dozen British forts; succeeding in eight cases. Fort Detroit and Fort Pitt (Pittsburgh) were critically strategic to the British and had especially large garrisons. Initial attempts to take those two forts did not succeed, and sieges ensued. The siege at Detroit, led by Pontiac, was especially severe. Lasting from May to October, it featured battles, dramatic rescue attempts and daring resupply efforts.
Wikipedia has an extensive article on Pontiac's war that reflects current thinking among historians about the causes of the attacks and the extent to which Pontiac orchestrated them. Interpretations now are quite different from those of 19th century historians.

The History of the Great Lakes States (this website) has a variety of resources about that war, which in the past was often called 'Pontiac's Conspiracy'. Books on the site, following the site page on which they appear, are as follows:
Pontiac's War is covered in several of the Michigan history surveys.


Burton, M. Agnes, ed. Journal of Pontiac's Conspiracy, 1763
Parkman, Francis, The Conspiracy of Pontiac and the Indian War after the Conquest of Canada


Bailey, John R. Mackinac, formerly Michilimackinac


Catherwood, Mary Hartwell, The White Islander
Crowley, Mary Catherine, Heroine of the Strait. A Romance of Detroit in the Time of Pontiac
Emery, Anne, A Spy in Old Detroit
Ford, R. Clyde, Campfire and Trail (The White Captive); A Tale of the Pontiac War
Ludlow, Will Cumback, Onawago or the Betrayer of Pontiac
Munroe, Kirk, At War with Pontiac or the Totem of the Bear. A Tale of Redcoat and Redskin
Richardson, John, Wacousta; or, The Prophecy: A Tale of the Canadas