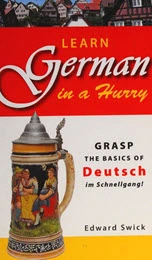 Hundreds of free learn German books pdf. Learn the German language pdf with self-instruction, textbooks, grammars, audio, dictionaries …
Books for self-instruction for German language learners. Some titles: Instant German, German Made Simple, Intermediate German for Dummies, Mastering German, German Verb Drills, Basic German Workbook.
Many free textbooks for foreigners learning German. Some titles: Handbuch zur Deutschen Grammatik, Practising German Grammar, Enjoy German, Deutsch: Na Klar!, Mosaik 2: German Language and Culture, AQA A2 German Grammar Workbook, Intermediate German Grammar.
Books on German vocabulary for learners. Some titles: German Vocabulary Drills, Families in German, First Thousand Words in German, Berlitz German Vocabulary Handbook, First 100 German Words, Barron's Vocabular Builder German, Vocabulary GCSE German, Usborne Essential German Phrasebook & Dictionary.
Readers for German learners. Some book titles: An Introduction to German Language and Culture, Berlinter Platz 1 Neu, Weiter Geht's! (intermediate language and culture), Von A biz Z, Allerlei zum Lesen, Grundwissen Deutschland: Kurze Texte and Ubungen, Reading German.
Free German grammar books. Some book titles: Basic German, Kontakte: A Communicative Approach, Essential German Grammar, Intermediate German Grammar, Understanding English-German Contrasts, GCSE German, Deutsch Aktuell 3.
Free German Dictionaries, including many German-English dictionaries. Publishers include Collins, Langenscheidt, Oxford, Barron's, Berlitz, Frommer's, DK, Webster's, Living Language, Lonely Planet, Harrap.
A small collection of books in German; both fiction and nonfiction, from young children to adult. Some book titles: Die Falsche Tochter, Die Nacht des Schierlings, Tante Inge haut ab, Eine kurze Geschichte vom Gluck Roman, Die Sehnsucht der Cheyenne.
Books of Short Stories in German. Some book titles: Wir Vergessen Nicht Wir Gehen Tanzen, Falkenspur, German Short Stories 1945-1955, Das Urteil, and Die Vervandlung.
Fiction Books in German. Some book titles: Tausend Teufel, Ohr Feige, Das Haus in der Nebelgasse, Conni feiert Weihnachten, Kommando Schluckspecht.
A small collection of books and stories in German, in audio. Titles include: Sammlung Deutscher Gedichte, several volumes of Grimm's Marchen, Fabeln, Max and Moritz, Doctor Johannes Faust.