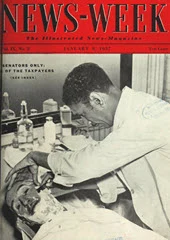 Newsweek archives, 1933-2008. Newsweek PDF. Free online scanned magazines, from first issue in 1933 to 2008. 20th century history.
Newsweek Archives
The first issue of Newsweek Magazine was published in February 1933, and it became one of the most popular weekly news magazines in the U.S. for much of the 20th century. It was owned by the Washington Post newspaper from 1961 to 2010.
The top row of links at each year (below) lead to color images of print versions of the U.S. edition of Newsweek Magazine. They are in 2-month and 3-month groups because they were bound that way by the donor library. Several of these groups of issues could not be found online. The resolution of these color scans is good, but the edges of pages were cut off during scanning, making some of the stories hard to read.
Links with "B&W". These are pdf scans of black and white microfilm versions of Newsweek. The resolution is lower than the color scans. Text is readable, but images are poor. The B&W links on this page come from two archives of microfilm images: 1933-1961 U.S. edition, and; 1973-1996 International Atlantic edition. The International edition of Newsweek devotes more space to news around the world.
Newsweek Subject indexes are here for each 6-month volume. You'll normally find them at the beginning of a 2-month or 3-month binder in the color versions. There is also an index at each B&W volume link.

Newsweek Archives 1930s
Note: Vol 2 consists of issues from Aug-Dec, but the metadata mislabels them as Vol 1.
See the Menu at the top of every page for Directories of Free Online Fiction and NonFiction Books, Magazines, and more, on 400 pages like this at Century Past

Newsweek Magazine 1940s
Newsweek Archives 1940s – (continued)
See our History Directory of all history pages on our site
Newsweek PDF 1940s – (continued)

Newsweek Magazines PDF 1950s
Newsweek Archives 1950s
See our big collection of old magazines online free
Newsweek Archives 1950s

Newsweek Archives 1960s
See our free pdf books on American history of the 20th century
Newsweek Archives 1960s – (continued)
Newsweek Archives 1960s – (continued)

Newsweek Archives 1970s
See our US history textbooks pdf
Newsweek Archives 1970s – (continued)
Newsweek Archives 1970s – (continued)

Newsweek Archives 1980s
Newsweek Archives 1980s – (continued)
Newsweek Archives 1980s – (continued)

Newsweek PDF 1990s
Newsweek Archives 1990s – (continued)
See our Resources Section for collected articles, maps and vintage photos
Newsweek PDF Back Issues 1990s – (continued)

Newsweek PDF Back Issues 2000s
Newsweek PDF Back Issues 2000s (continued)
2008 (Vols 151) – Jan-Feb