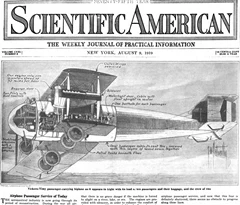 Aviation history articles about the Berlin airlift, Airplane passenger service in 1919, the U.S. Army Air Force in the UK in WW2, the Future of Trans-Atlantic Flight as seen in 1919, and American women in aviation.history. Plus copies of the Wright Brothers' early patents, issues of an early British aviation magazine, and a link to the Century Past Library Air & Space Flight collection of free books.
Free Aviation Books here on Century Past
6.

"American Aviatrixes"; An online history of women fliers in the history of aviation, with historic photos. Includes a section on the Women's Air Force Service Pilots (WASPs) of WW2.

Free Aviation Magazines here on Century Past
8.

Aero; 1909-1913; An early British aviation magazine. Selected issues available.
9.

Books on Aviation & Aviation.History: Giant collection of free online books about Air and Space Flight, here at the Century Past Library.

Directory of Century Past Blog posts with Introductions