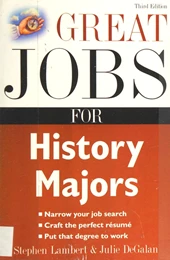 Characteristics and qualities of a good historian. What makes a good historian? What are important characteristics? What skill sets do they have?
You will also find here information about historian occupations, job openings, and links to historians' professional organizations.
Writing of the essential characteristics of a historian, or what makes a good historian, digital historian and teacher T. Mills Kelly wrote that, "Almost every historian has his or her own personal list of the characteristics of historical thinking, but abilities that come up again and again are:"
1. The ability to tell the difference between a primary and a secondary source.
2. The ability to "source the source"; that is, figure out who created the source, when it was created, and so on.
3. The ability to obtain information about the authority of the source and to assess that authority in light of other evidence.
See the Menu at the top of every page for Directories of Free Online Fiction and NonFiction Books, Magazines, and more, on 400 pages like this at Century Past
See our History Directory for thousands of free history books
4. The ability to set sources in their proper chronological order and to understand why that ordering is important.
5. The ability to construct an original argument based upon evidence from various sources.
6. The ability to recognize the strangeness of the past without being put off by that strangeness.
7. The ability to make comparative judgments about evidence.
See our collected Articles about 20th Century U.S. History
8. The ability to recognize what one does not or cannot know from the evidence at hand.
9. The ability to understand that events are understood differently by different people.
10. The ability to triangulate between and among sources.
11. The ability to ask probing questions—not just what happened, but why did it happen this way and why didn't it happen that way?
See our collections of Historical Maps and Historical Photos
12. The ability to recognize the role of causality.
13. The ability to critique evidence both on its own terms and in terms of its value to a larger analytical project.
14. The ability to recognize lines of argument in historical thought.
15. The ability to present the past in clear ways, whether in writing or in other media, saying what can be said and not saying what cannot."
The passage above is quoted from Teaching History in the Digital Age, by T. Mills Kelly, University of Michigan Press 2013, pp 22-23.
What do Historians Do?
The website Indeed.com, a major career recruitment site in the U.S., defines the profession of Historian in this way: "A Historian is someone who professionally researches, teaches and writes about past events to contribute to a shared understanding of how mankind has developed. Their duties include seeking out primary resources, interpreting documents and sharing hypotheses about the past."
The same Indeed.com webpage about Historians provides this statement about qualities of historians:
"Good Historians need to be avid readers who are passionate about learning more about past events and how they influenced one another. They should be focused and meticulous so that they can identify key details in their research. Historians must also have excellent critical thinking and analytical thinking so they can generate useful hypotheses and make logical deductions about how past events occurred based on context. They are also serious about upholding academic integrity and only publishing truthful information with reliable evidence to support their narrative."
See our Encyclopedias

Historian Occupations: Information and Useful Websites
Anyone considering becoming a historian in the United States may wish to learn more about the profession in the U.S. Bureau of Labor's Occupational Outlook Handbook.
You may also like our Century Past collection of articles on the practice of history, or our articles about teaching history.
O*Net Online – Historians (Summary). O*Net Online is a U.S. Department of Labor website that provides up-to-date information about occupations in the U.S. It is an excellent place to begin learning about what historians do, the kinds of education and training required, normal work activities, characteristics of a historian, wages, and the future employment outlook for historians.
American Historical Association (AHA). "The largest professional organization serving historians in all fields and all professions."
American Historical Association Career Center (Job Listings). This appears to be a good place to find current openings for faculty members in University History departments. It does not seem to have listings for other types of history jobs.
Organization of American Historians (OAH). "The largest professional society dedicated to the teaching and study of American history."
Public History Organizations
Many historians work in various occupations in the field of "Public History", rather than as teachers in schools or as faculty members in University History departments. The National Council on Public History (NCPH) says this about Public Historians: "Public historians come in all shapes and sizes. They call themselves historical consultants, museum professionals, government historians, archivists, oral historians, cultural resource managers, curators, film and media producers, historical interpreters, historic preservationists, policy advisers, local historians, and community activists, among many other job descriptions. All share an interest and commitment to making history relevant and useful in the public sphere."
National Council on Public History (NCPH). "A membership association dedicated to making the past useful in the present and to encouraging collaboration between historians and their publics."
State and Local History Organizations
Many historians, both professional and amateur, work in the fields of 'State and Local History', which includes city and community history. The American Association for State and Local History is a "national membership association dedicated to helping the history community thrive. For the better part of a century, AASLH has provided leadership and resources to its members who preserve and interpret state and local history to make the past more meaningful to all people. AASLH is the professional association for history-doers." Today it provides support to over 5,500 institutional and individual members.