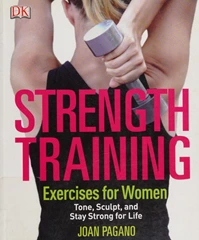 Hundreds of free fitness books pdf, including many for women's exercise. Subject groups, and suggested workout books pdf.
Table of contents

Book Collections about Fitness
About 3,100 free physical fitness books pdf at the Internet Archive, resulting from a search for books on "Physical Fitness". Some books: Your Guide to Getting Fit, Measurement and Evaluation in Human Performance, Gentle Exercises for Better Health, The Silva Method: Think and Grow Fit, Mayo Clinic Fitness for Everybody, Walking for Fitness, Fitness and Wellness, Exercise for Everyday People, Choices in Health and Fitness for Life, many more.
See our free fitness magazines
About 370 free exercise for women books pdf from the Internet Archive. Some books: Marilu Henner's Total Health Makeover, The 6-week Bikini Countdown, Look Great Naked, Totally Toned Arms, Wake Up and Live, Fashion Your Figure, Dancersize, The Complete Book of Abs for Women, Aerobics for Women, Women Sport and Performance, Women's Weight Training Book, many more.
Suggested Fitness Books
CORE BOOKS – Types of Physical Fitness PDF – Exercise Books PDF
Bailey, Covert
Aurum 1995
Smart Exercise is a feast of useful information and practical advice. Here is a comprehensive guide to exercise and training, an irreverent debunking of weight-loss myths, a lucid explanation of how our bodies stay fit or go fat. Most important, Smart Exercise reveals the secret to good health: fit muscles rule the body. Using his remarkable ability to teach and make you laugh at the same time, Covert vividly explains how muscles really function, describes the multiple benefits of a good workout, and shows why muscle efficiency is the key to lowering body fat and getting fit.
Blair, Steven N.
Human Kinetics 2001
Learn simple and enjoyable ways to fit physical activity into your life, concentrating on activities you can easily add into your daily routine. Create your own personalized activity plan unique to your individual preferences and lifestyle. With an emphasis on moderate-intensity activities, you'll also learn how everyday activities, like housecleaning and gardening, can count toward your weekly physical activity goals.
Burke, Louise
Allen & Unwin 1995
Dr Louise Burke has seen the benefits of a winning diet from many angles. Her own sporting career includes seven international Ironman triathlon events. She has completed PhD studies in Sports Nutrition and continues to undertake research in this area. Her book therefore presents nutrition as an integrated part of an athlete's total performance-enhancing package. She converts general nutrition and exercise physiology information into a plan for day-to-day training and competition preparation. The second part of the book outlines important differences in nutritional needs for different sports, including the timing of food and liquid intake, and the best foods to achieve maximum energy output.
Bushman, Barbara, ed.
Human Kinetics 2011
Featuring step-by-step instructions and full-color photos for the most effective exercises, sample workouts, practical advice, age-specific physical activity and dietary guidelines, and strategies for incorporating exercise and healthy nutrition choices into even the busiest of lifestyles, ACSM's Complete Guide to Fitness & Health is a resource that belongs in every fitness enthusiast's library.
Callahan, Lisa
Lyon's Press 2004
In her authoritative yet congenial style, Dr. Callahan addresses women of all ages (from 18 to 98) and abilities (from couch potato to elite athlete) helping them: -Evaluate individual health and fitness goals -Develop a lasting positive attitude about exercise -Design an individualized exercise program (based on interest and ability) that has guaranteed staying power -Understand the major factors of fitness including cardiovascular, flexibility, and muscle strength and endurance -Get in touch with the athlete within and more.
Decker, Joe
New American Library 2005
Joe Decker, who broke the Guinness World Record's 24-hour Physical Fitness Challenge, shows how anyone can get on the road to fitness in just one month. Readers can: – Get motivated and inspired by Joe's amazing personal weight-loss story – Harness the secret of interval training to get fit quick – Boost metabolism with a variety of indoor/outdoor cardio activities that make fitness fun – Monitor progress and keep on track with a customized workout log – Jumpstart fat-burning potential with simple strength-training moves in the gym or at home – Take advantage of day-to-day meal plans and recipes incorporating good carbs and good fats.
Haff, G. Gregory and Triplett, N. Travis, eds.
Human Kinetics 2016
This comprehensive resource, created by 30 expert contributors in the field, explains the key theories, concepts, and scientific principles of strength training and conditioning as well as their direct application to athletic competition and performance. Provides the most comprehensive information on organization and administration of facilities, testing and evaluation, exercise techniques, training adaptations, program design, and structure and function of body systems.
Hines, Emmett W.
Human Kinetics 2008
Fitness Swimming is designed to help recreational and competitive swimmers, as well as triathletes, improve both their swimming technique and their conditioning. The book shows how to step by step build a more effective and efficient freestyle stroke using simple drills; then it guides swimmers through a structured conditioning program that emphasizes continued development and refinement of that technique.
Hodgkin, Dean and Pearce, Caroline
Human Kinetics 2014
Packed with full-colour photos and detailed descriptions of exercises, this book includes proven programs for increasing strength, endurance, power and agility as well as strategies for accelerating muscle development and recovery, breaking through plateaus, reducing body fat and fueling performance. You'll find expert advice and the latest research on pregnancy, menopause, osteoporosis and common injuries. Complete with a discussion on training diaries for tracking progress and monitoring results, sample menu plans and dietary recommendations and an array of workouts for home and gym.
Kenney, W. Larry et al
Human Kinetics 2015
Frames research findings in physiology in a reader-friendly format, making this textbook a favorite of instructors and students alike. This resource offers a simple way for students to develop an understanding of the body's abilities to perform various types and intensities of exercise and sport, to adapt to stressful situations, and to improve its physiological capacities.
Kolata, Gina Bari
Farrar, Straus and Giroux 2003
Gina Kolata, science reporter for The New York Times, takes a fascinating journey into the fads, fictions, and genuine innovations that have defined the world of physical fitness. From weight lifting for men and women in the early days, to jogging in the 1970s, cycling in the 1980s, aerobics in the 1990s, and now Spinning, Kolata explains the science of conditioning and the objective evidence behind commonly accepted prescriptions. Lively and engaging, Ultimate Fitness spotlights the machines and machinations, and cuts through the marketing and hype not only to assess what is healthy, but also to help us understand what our obsession with fitness says about American culture today.
Larsen, Laura
Omnigraphics 2011
Provides updated information about the health benefits of physical activity, discussing guidelines for physical fitness at all age levels and including the latest information about physical activity for all levels, including those with chronic diseases or disabilities. From the health benefits of physical activity for guidelines for fitness and fitness safety, this packs in a range of topics key to any health library.
Matthews, Michael
Oculus 2016
If you want to be muscular, lean, and strong as quickly as possible without steroids, good genetics, or wasting ridiculous amounts of time in the gym and money on supplements…then you want to read this book. The bottom line is you can achieve that "Hollywood Hunk" body without having your life revolve around it. No long hours in the gym, no starving yourself, no grueling cardio that turns your stomach.
National Institute on Aging
Healthy Living 2003
This fitness manual from the National Institute on Aging gives you the motivation and guidance you need stay fit and healthy as you age—with over 25 gym- and equipment-free exercises. Studies show that people who stay active—no matter what their age—benefit from exercise. Not only can it help you feel better, but it makes doing all those day to day tasks easier and more enjoyable. With nutrition tips, easy-to-follow exercises, and expert advice, Fitness Over Fifty is the essential guide for staying active, even as you age.
Pagano, Joan
DK 2014
Packed with more than 200 visual step-by-step exercises designed to burn calories, strengthen the core, and tone the body, Strength Training for Women is a must-have for core-conscious women who want to target key areas of their body and maintain all-round strength and fitness.
Rippetoe, Mark and Kilgore, Lon
Aasgaard 2011
No other book on barbell training ever written provides the detailed instruction on every aspect of the basic barbell exercises found here. And while the methods for implementing barbell training detailed in the book are primarily aimed at young athletes, they have been successfully applied to everyone: young and old, male and female, fit and flabby, sick and healthy, weak and already strong.