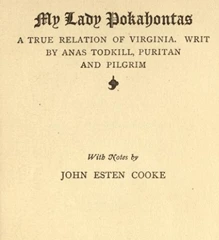 Historical fiction set in the southern U.S.; vintage novels. The Century Past Library has links to several hundred vintage novels, including the historical fiction books below that are set in the American South. Nearly all these novels were published before 1924, and are copyright free. You can read online or download them, free.
All Historical Fiction
You'll find links to pages containing the books below at the Century Past Library page on Vintage Novels. Also please visit our huge collection of more modern Historical Fiction, and see the Fiction Directory for Century Past.
Historical Fiction Set in the South – Virginia & Maryland
Cooke, John Esten, Henry St. John, Gentleman of "Flower of Hundreds" in the County of Prince George, Virginia. A Tale of 1774-'75
Cooke, John Esten, My Lady Pokahontas; a True Relation of Virginia. Writ by Anas Todkill, Puritan and Pilgrim
Cooke, John Esten, Stories of the Old Dominion; from the Settlement to the End of the Revolution
Goodwin, Maud Wilder, Sir Christopher; a Romance of a Maryland Manor in 1644
Goodwin, Maud Wilder, White Aprons; a Romance of Bacon's Rebellion: Virginia 1676
Johnston, Mary, The Old Dominion
Johnston, Mary, To Have and to Hold
Rives, Hallie Erminie, Hearts Courageous
Scott, John Reed, The Impostor; a Tale of Old Annapolis
Smith, Francis Hopkinson, Kennedy Square
Thruston, Lucy Meacham, Mistress Brent; a Story of Lord Baltimore's Colony in 1638
Historical Fiction Set in the South – New Orleans
Cable, George Washington, The Grandissimes; a Story of Creole Life
Carpenter, Edward Childs, The Code of Victor Jallot
Read, Opie Percival, By the Eternal
Winn, Mary Polk and Hannis, Margaret, The Law and the Letter: a Story of the Province of Louisiana
Historical Novels – Other Locations in the South
Cooke, Grace MacGowan and MacGowan, Alice, Return; a Story of the Sea Islands in 1739
Devereux, Margaret, Plantation Sketches
Kester, Vaughan, The Prodigal Judge
Rayner, Emma, Doris Kingsley, Child and Colonist