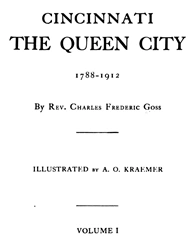 We have links on the Great Lakes States portion of this site for numerous online resources that can be useful to anyone doing genealogical research or looking into their local history. Every title on this website is fully available online, free. While the Great Lakes States portion is dedicated to the five Great Lakes states of Illinois, Indiana, Michigan, Ohio and Wisconsin, you can also find some excellent resources with material for other states.
We now have individual genealogy guides for Indiana and Illinois:
Indiana Genealogy & Local History Resources
Illinois Genealogy & Local History Resources

The titles shown below make up just a sample of our genealogy and local history resources. You'll find our five Cities, Counties and Regions pages, (one for each state) especially useful, but you're also invited to scroll down through the subject headings in the center column of the Great Lakes States Directory where you'll find much more of interest.


Online County and Town Histories Website
This site has collections for every state. For Ohio, there are 5 state-wide biographical collections, 4 regional collections, and histories, with biographies, of most counties. For some counties there are several histories.
Goss, Charles F., Cincinnati, the Queen City, 1788-1912. 4 Volumes (1912)
Two of the four volumes are devoted to biographical sketches.
Encyclopedia of Cleveland History
An online encyclopedia with thousands of articles, images, historical maps and multimedia files for Cleveland and the Western Reserve region.
Mills, William S., The Story of the Western Reserve of Connecticut (1900)
One chapter provides the dates for the creation of counties and explains how to trace which counties a particular farm had been within. There is a chapter on land surveys, and some information about early education and churches. The final third of the book is devoted to biographical sketches of early prominent settlers.
Toledo's Attic
An online virtual museum for Toledo and Northwest Ohio, with a focus on the region's commercial, industrial, and social history from the late 19th through the late 20th centuries.
Michigan County Histories and Atlases
The Michigan County Histories and Atlases Digitization Project is comprised of nearly 500 titles published before 1925. You can search or browse by title, author, or subject.
Burton, Clarence M. ed., The City of Detroit, Michigan, 1701-1922. 5 volumes (1922)
Goss, Dwight, History of Grand Rapids and its Industries (1906)
History of the Upper Peninsula of Michigan: containing a full account of its early settlement (1883)
Weissert, Charles A., ed., An Account of Southwest Michigan and St. Joseph County (1924)
A New Map of Ohio with its Canals, Roads & Distances (1846)
Atlas of the State of Ohio: to which is added an Atlas of the United States (1869)
Ohio Interactive Map of Historical Boundaries of Counties from Creation of the First County through the Year 2000
Historic Map Works
A very large collection of maps of the U.S. and the world. The Ohio portion of the collection has 440 atlases that contain 21,000 historical maps. There are a number of atlases here for almost every county.
Maps and Atlases Collection
3,700 maps and atlases in a searchable collection.
Wisconsin Gazetteer, containing the names, location and advantages of the counties, cities, towns, villages, post offices, and settlements, together with a description of the lakes, water courses, prairies, and public localities, in the state of Wisconsin, alphabetically arranged (1853)
The Official Roster of the Soldiers of the American Revolution Buried in the State of Ohio (1929)
Roster of Ohio Soldiers, War of 1812
Searchable database maintained by the Ohio Historical Society.
Online Index to Grave Records of Servicemen of the War of 1812, State of Ohio
Database maintained by the Ohio Society, United States Daughters of 1812.
Ohio Probate Records, 1789-1996
This is a continuing project by FamilySearch.org to digitize their court records, which had been photographed since the 1960s.
Wisconsin Pioneer Experience
A digital collection of diaries, letters, reminiscences, speeches, and other writings of the people who settled in Wisconsin in the 19th century.
Wisconsin Local History and Biography Articles Collection
Contains 16,000 historical newspaper articles on notable Wisconsin people and communities. Most articles were published 1860-1940.