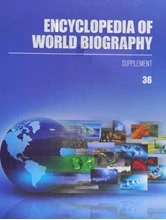 Online biography free, biography reference books. Biographical dictionaries PDF, encyclopedias. Hundreds of free online books.
Biographies & Memoirs Pages on Century Past
'Book Collections' and 'Vintage Books' are at the bottom.

Biographical Dictionaries – Online Biography Free

CORE BOOKS – Biography Reference Books Online Free
Byers, Paula, ed.
Gale 2000
Presents brief biographical sketches which provide vital statistics as well as information on the importance of the person listed. 30 volumes plus one-volume supplements for 2015 and 2016. Online biography.
Patrick, David and Groome, F. H., eds.
Lippincott 1962 Dewey Dec. 920.03
"A good small dictionary with over ten thousand brief biographies. It marks pronunciation of difficult foreign names, and contains an index of selected pseudonyms and nicknames. First published in 1897, it has undergone various revisions."
– – A.L.A.Catalog 1926. Online free biography.
Malone, Dumas, ed.
NY: Scribner's Sons 1928-1937 Dewey Dec. 920.03
This first edition of 20 volumes contained 15,000 biographies. Volume 21 is a supplement, covering the period to Dec. 31, 1936. The last volume is an index for the 20-volume set. Online free biography.
Stephen, Leslie, ed. and others
London: Smith, Elder 1885 to 1990 Dewey Dec. 920.03
The Dictionary of National Biography (DNB) is a major reference work on notable inhabitants of the British Islands and the Colonies from the earliest historical period to the present time, excluding living people.
The 63-volume first edition was an 18-year task. The set contains notices of 29,120 men and women; most with "full, substantive articles". For an account of the creation of the Dictionary of National Biography, see the preface, "A Statistical Account", in Volume 63.
The 1901 3-volume Supplement to the first edition contains 1,000 articles. More than 200 entries represent accidental omissions from the previous 63-volume set. Nearly 800 individuals were included in the Supplement who died at too late a date to be included in the 1st edition. No one was included in the Supplement who died after 22 January 1901; the date of Queen Victoria's death.
The 1903 Index and Epitome is a guide to the 63-volume 1st edition and its 3-volume Supplement. Index and Epitome entries are abstracts of the original entries in one-fourteenth the number of words, on average. Each entry includes a reference to the volume and page of the full 1st edition or Supplement entry. This would be a good place to begin a search for anyone who died before 1901.
The 2nd edition, published in 1908-1909, was a re-issuance of the first edition in one-third the number of volumes. The last volume, number 22, contains all three volumes of the 1st edition Supplement. No new entries were included, although some factual errors were corrected.
The 3-volume Second Supplement, published in 1912, furnished biographies of 1,660 notable persons who died between 22 January 1901 and 31 December 1911. Further supplements, issued approximately every 10 years, are found at the separate buttons above. Online free biography.
Some or all of these links may not be visible to users outside the United States
Being the History of the United States as Illustrated in the Lives of the Founders, Builders and Defenders of the Republic, and of the Men and Women who are Doing the Work and Moulding the Thought of the Present Time. Edited by distinguished biographers, selected from each state, revised and approved by the most eminent historians, scholars, and statesmen of the day. Online free biography.
White
"This biographical dictionary of Americans is more comprehensive than the Dictionary of American Biography but lacks the scholarly approach and the bibliographies characteristic of the latter work. The entries in the National Cyclopaedia are unsigned and are largely based upon questionnaires and other information supplied by families of the biographees. Since this dictionary is not alphabetically arranged, access to the entries is conducted through the general index."
– New York Public Library
The Cyclopedia began publication in 1891, releasing about one volume per year. The publisher decided in the mid-1920s to inaugurate a new series to be devoted exclusively to living persons. Since then the Cyclopedia was issued in two series: The Permanent Series (numbered volumes), devoted to biographies of deceased subjects, and the Current Series (lettered volumes), containing the life stories of living Americans.
The main link above is for a webpage on "The Online Books Page" which provides links to each volume, found either at the Internet Archive or HathiTrust. There are links to Volumes 1-46 (1891-1963) of the The Permanent Series, and Volumes A-I (1930-1960) of the Current Series.
The Index volume (at the button above) is a 1984 edition that is the key to finding entries in the entire set from 1891-1984; including The Permanent Series volumes 1-62 and Current Series Volumes A-M. See the "Explanatory Notes" page at the beginning of the Index volume for several ways that the index can be useful.
White's Conspectus of American Biography; A Tabulated Record of American History and Biography, also on this webpage, is a reference work designed to use with this Cyclopedia.
NY: J.T. White 1937
"White's Conspectus of American Biography is a tabulated record of Americans who have achieved distinction in every field of endeavor. It consists largely of lists of the leaders in government, both national and state, the church, education, the arts and sciences, and the professional fields, from Colonial times to the present day." Online free biography.
Originally published in 1906 in combination with the indexes to the National Cyclopaedia of American Biography (also on this web page), it was revised and modernized for this 1937 2nd edition. References within are to the National Cyclopaedia, but it also stands alone as a useful biographical reference.
Marquis 1963
"A compilation of sketches of individuals, both of the United States of America and other countries, who have made contribution to, or whose activity was in some manner related to the history of the United States, from the founding of Jamestown Colony to the year of continuation by Volume I of Who was Who".- from title page. Biography free online.
Harmon, Justin
ABC-CLIO 1993
Profiles of more than 360 men and women who have played a prominent role in the culture of the United States from colonial times to the present. Included are writers, musicians, dancers, painters, actors, architects, sculptors, photographers, and others who have left a timeless impression. Biography free online.

BOOK COLLECTIONS – Free Online Biography Reference Books
About 220 books from the Internet Archive free online on the subject of Biographical Encyclopedias. Biography free online.
You may also like our collection of biographical articles.
About 1,800 books from the Internet Archive free online on the subject of Biographical Dictionaries. Biography free online.
VINTAGE BOOKS – Biography Reference Books PDF Free Download
Wilson, J. G. & John Fiske, eds.
Appleton 1894-1900 Dewey Dec. 920.03
Contains generally accurate and fairly long articles, little bibliography, many portraits and facsimiles of autographs. Under each family the arrangement is not alphabetical, but by seniority in the family. The analytical index is useful for subjects and names not treated separately. Includes names of native and adopted citizens of the United States, including living persons, from the earliest settlement. Also eminent citizens of Canada, Mexico and all other countries of North and South America. Also names of men of foreign birth who are closely identified with American history.
Contents: v.1-6, A-Z, sup. A-Z, analytical index; v.7, sup. A-Z; Pen-names, nicknames, sobriquets;
List of deaths in v.1-6; other special material; analytical index to v.7″
– – A.L.A.Catalog 1926. Biography free online.
Volume 2 – Biography Free
Clement, Clara Erskine and Hutton, Laurence
Houghton 1879 Dewey Dec. 920.03
More than 2,000 brief biographies, followed by critical quotations. Aims to present artists of prominence, rather than to include all those of the century.
— A.L.A. Catalog 1904
U. S. Congress
Supt. of docs 1913 Dewey Dec. 920.03
"Contents: (1) Lists: Executive officers 1789- 1911; The Continental congress; Representatives under each apportionment; Members of each Congress arranged by states; (2) Biographies, arranged alphabetically."
– – A.L.A.Catalog 1926. Biography Free.
Brief Biographies of Authors, Administrators, Clergymen, Editors, Engineers, Jurists, Merchants, Officials, Philanthropists, Scientists, Statesmen, and others who are making American History. Biography Free.
Johnson, Rossiter, ed.
Boston: American Biographical Society 1906 Dewey Dec. 920.03
Vol 1 A-Browne
Vol 2 Bro-Cowan
Vol 3 Cowan-Erich
Vol 4 Ericsson-Gwin
Vol 5 Habb-Izard
Vol 6 Jack-Lock
Vol 7 Lodge-Moul
Vol 8 Moul-Pyne
Vol 9 Qua-Stearns
Vol 10 Steb-Zueb
Accurate and Succinct Biographies of Famous Men and Women in All Walks of Life who are Or Have Been the Acknowledged Leaders of Life and Thought of the United States Since Its Formation, entirely covering the field of Literature, Science, History, Politics, Commerce, and the Mechanical and Industrial Arts. Biography Free.
Herringshaw, Thomas William, comp.
American Publishers 1898 Dewey Dec. 920.03
Estimated to contain profiles of about 25,000 individuals. About 3,000 have photos, or images of painted portraits. Biography free.
Volume 2 – Biographical Dictionaries PDF
Morgan, Henry James, ed.
Briggs 1912 Dewey Dec. 920.03
1,200 pages in 2 volumes with about 7,900 sketches of Canadians who were living at the time the book was undertaken.
— A.L.A. Catalog 1904. Biography free.
Smith, Sir William
Appleton 1894 Dewey Dec. 920.03
Adams, Oscar Fay
Houghton 1904 Dewey Dec. 920.03
"A greatly enlarged edition of the author's Handbook of American Authors. It gives six thousand names with dates, titles of books, and exceedingly compact biographic and critical notes."
– – A.L.A.Catalog 1926. Biography free.
Sharp, Robert Farquharson
Paul 1904 Dewey Dec. 920.03
"A compendious account of the lives and writings of upwards of eight hundred British and American writers from the year 1400 to 1904. An appendix contains a large amount of additional material."
– – A.L.A.Catalog 1926. Biography free.
Bryan, Michael
Williamson 1903-05 Dewey Dec. 920.03
"A standard work giving in one alphabet the biography of artists and descriptions of their most famous works. Numerous excellent plates."
– – A.L.A.Catalog 1926.
Marquis 1924 Dewey Dec. 920.03
An excellent dictionary of contemporary biography, containing information similar to that given in Who's Who."
– – A.L.A.Catalog 1926
Volumes 1-7, 1899-1913
Arranged in four Eras, with Selections from Female Writers of Every Age
Hale, Sarah Josepha
Harper & Brothers 1855 Dewey Dec. 920.03
Illustrated with two hundred and thirty portraits. The index lists about 2,000 women. Some entries are biographical profiles of a couple of short paragraphs, while some entries have profiles and writing selections of several pages.
A Biographical Dictionary of Contemporary Women of the United States and Canada 1914-1915
Leonard, John William, ed.
NY: American Commonwealth 1914 Dewey Dec. 920.03
Approximately 10,000 women of 1914 are covered, in about 900 pages. Biography free online.