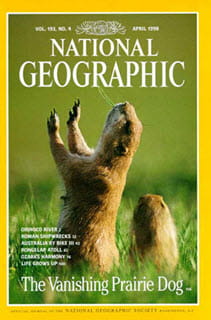 "National Geographic Magazine, the flagship magazine of the National Geographic Society, chronicles exploration and adventure, as well as changes that impact life on Earth. Editorial coverage encompasses people and places of the world, with an emphasis on human involvement in a changing universe. Major topics include culture, nature, geography, ecology, science and technology." – National Geographic Magazine.
When you click to open a 6-month volume of National Geographic, the metadata at the bottom of the screen will give the publication date as 1959. Not correct. Look at the magazine covers for the dates.
Every 6-month volume has a table of contents and index at the front. See the link below this note for an alphabetical index covering all issues of the magazine through 1988.
The photographic images of these magazines are often dark. You can lighten them somewhat with the 'Visual Adjustments', found at the ellipse at the left edge of the screen when you open a volume.
Links to Scanned National Geographic Magazines
See our Century Past magazine archives