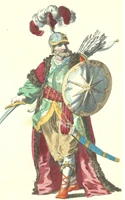 Vintage illustration art, vintage posters online. Free online collections of book illustrations, art and political posters, graphic art.
From Boston Public Library. Approx. 590 posters concentrates on the period of the height of the poster movement during the 1890s. Holdings are particularly rich in posters designed by Edward Penfield, Will Bradley, and Ethel Reed. Digital Commonwealth.
See the Menu at the top of every page for Directories of Free Online Fiction and NonFiction Books, Magazines, and more, on 400 pages like this at Century Past
1,120 illustrations in a flickr collection. British Library.
See our links to historic photo & image collections of the world
From NY Public Library Collection of Customs and Costume. About 490 colored illustrations from a multi-volume book published from 1757 to 1772 entitled "Collection of the Dresses of Different Nations, Antient and Modern, Particularly Old English Dresses After the Designs of Holbein, VanDyke, Hollar, and Others …".
See our free art magazines
From U.S. Library of Congress. Historical prints (ca. 1700-1900) in the LOC popular graphic art series. Most by printmakers, but printmakers in other countries are also represented.
See our Vintage magazines from the 19th & early 20th Centuries
Consists of 245 late 19th and early 20th century illustrated trade cards, all emanating from businesses in Brooklyn's historic commercial thoroughfare. Brooklyn Public Library, New York Heritage Digital Collections.
See our Arts books pdf
From Library of Congress. The Tissandier Collection contains about 975 items in the history of aeronautics, emphasizing balloon flight in France and other European countries., and including airships and flying machines.
See our free articles about the history of arts & culture
Posters covering social protest movements such as Anarchism, Civil Liberties, Colonialism, Communism, Ecology, Labor, Pacifism, Sexual Freedom, Socialism, Women, and Youth/Student Protest. Some from the 1st half of the 20th century, but the majority from later. University of Michigan.