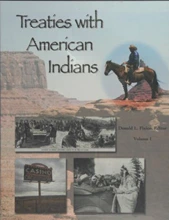 Free online library of books. Native American current issues. American Indian political and legal rights, treaty rights.
Native American Books at Century Past Library
On this page:

Native American Political & Legal Core Books
Anderson, Terry Lee
Stanford University 2006 Dewey Dec. 970.15
"This book compares and contrasts historical and contemporary Canadian and U.S. Native American policy. The contributors include economists, political scientists, and lawyers, who, despite analyzing a number of different groups in several eras, consistently take a political economy approach to the issues. Using this framework, the authors examine the evolution of property rights, from wildlife in pre-Columbian times and the potential for using property rights to resolve contemporary fish and wildlife issues, to the importance of customs and culture to resource use decisions; the competition from states for Native American casino revenues; and the impact of sovereignty on economic development. In each case, the chapters present new data and new ways of thinking about old evidence." -Publisher. Native American current issues. Free Online Library of Books.
Barreiro, Jose & Tim Johnson
Fulcrum 2005 Dewey Dec. 970.14
"The best articles, Op-Ed pieces, and political cartoons from the renowned newspaper Indian Country Today offer an unparalleled American Indian perspective on important world issues." -Publisher. Each of the ten chapters has several editorials and 'perspectives'.
Contents: Indian sovereignty is good for America – Nation building is key – Tribal nations and American justice – Tribal nations in the body politic – In the media eye – Hemispheric indigenous: The Americas – Global tribal: The world, war, and terrorism – Living on Mother Earth – Indian life in the Americas – Appreciations and remembrances. Native American current issues. Free Online Library of Books.
Bolt, Christine
Allen & Unwin 1987 Dewey Dec. 970.15
"This study explores key aspects of American Indian policy and reform in the context of American ethnic problems and traditions of reform. Case studies are included to illustrate areas of conflict and consensus. It is designed for students of American history, minority history or race relations." -Publisher. Free Online Library of Books.
Eighteenth Annual Report of the Bureau of American Ethnology to the Secretary of the Smithsonian Institution, 1896-'97, Part II
Bureau of American Ethnology
Government Printing Office 1899 Dewey Dec. 970.15
After a narration of the policies of colonial powers, American colonies and the U.S. toward the Indians, there is a "Schedule of Treaties", in table form, describing the land tracts acquired by treaty. Following that is a collection of large color maps showing the locations of all those tracts of land acquired from Native Americans.
Contents: Introduction – Right to the soil dependent on discovery – Foreign policy toward the Indians – The Spanish policy – The French policy – The English policy – Colonial policy toward the Indians – The policy in general – Virginia – Maryland – New York – New Jersey – Pennsylvania – Massachusetts – Connecticut – Rhode Island – North Carolina – South Carolina – Georgia – New Hampshire and Delaware – Policy of the United states – Schedule of treaties and acts of Congress authorizing allotments of land in severalty – Schedule of land cessions – List of Maps (maps of states or parts of states where land was acquired by treaty). Native American treaty rights. Free Online Library of Books.
See our books on What is Advertising in Marketing?
Carrillo, Jo
Temple University 1998 Dewey Dec. 970.15
"This selection of works — many by Native American scholars — introduces selected topics in federal Indian law. Readings in American Indian Law covers contemporary issues of identity and tribal recognition; reparations for historic harms; the valuation of land in land claims; the return to tribal owners of human remains, sacred items, and cultural property; tribal governance and issues of gender, democracy informed by cultural awareness, and religious freedom. Courses in federal Indian law are often aimed at understanding rules, not cultural conflicts. This book expands doctrinal discussions into understandings of culture, strategy, history, identity, and hopes for the future. Contributions from law, history, anthropology, ethnohistory, biography, sociology, socio-legal studies, and fiction offer an array of alternative paradigms as strong antidotes to our usual conceptions of federal Indian law. Each selection reveals an aspect of how federal Indian law is made, interpreted, implemented, or experienced. Throughout, the book centers on the ever present and contentious issue of identity. At the point where identity and law intersect lies an important new way to contextualize the legal concerns of Native Americans." -Publisher. Native American treaty rights. Free Online Library of Books.
Cousineau, Phil, ed.
University of California 2006 Dewey Dec. 970.15
"In this collection of illuminating conversations, renowned historian of world religions Huston Smith invites ten influential American Indian spiritual and political leaders to talk about their five-hundred-year struggle for religious freedom. Their intimate, impassioned dialogues yield profound insights into one of the most striking cases of tragic irony in history: the country that prides itself on religious freedom has resolutely denied those same rights to its own indigenous people. With remarkable erudition and curiosity–and respectfully framing his questions in light of the revelation that his discovery of Native American religion helped him round out his views of the world's religions–Smith skillfully helps reveal the depth of the speakers' knowledge and experience." -Publisher. Native American current issues. Free Online Library of Books.
Cowger, Thomas
University of Nebraska 2001 Dewey Dec. 970.15
"Founded in 1944, the National Congress of American Indians (NCAI) is one of the most important intertribal political organizations of the twentieth century. It has played a crucial role in stimulating Native political awareness and activism, providing a forum for debates on vital issues affecting reservations and tribes, overseeing litigation efforts, and organizing lobbying activities in Washington… This is the first full-length history of the NCAI. Drawing upon newly available ncai records and oral interviews with founding members, Thomas W. Cowger tells the story of the founding and critical first two decades of this important organization." -Publisher. Native American treaty rights. Free Online Library of Books.
Deloria, Vine Jr., ed.
University of Oklahoma 1985 Dewey Dec. 970.15
Contains 11 essays on Federal Indian policy.
Contents: American Indian policy: an overview / Joyotpaul Chaudhuri — Federal Indian policies and the international protection of human rights / Sharon O'Brien — Deception of geography / Fred L. Ragsdale, Jr. — United States and American Indians: political relations / Michael G. Lacy — Indian voting / Daniel McCool — Crisis in tribal government / Tom Holm — Cultural values and economic development on reservations / David L. Vinje — Bureau of Indian Affairs influence on Indian self-determination / Robert A. Nelson and Joseph F. Sheley — Supreme Court and Indian water rights / Mary Wallace — Indians and the First Amendment / John Petoskey — Evolution of federal Indian policy making / Vine Deloria, Jr. Native American current issues. Free Online Library of Books.
Fumoleau, Renel
McClelland and Stewart 1973 Dewey Dec. 970.15
"A historically accurate study that takes no sides, this book is the first complete document of Treaties 8 and 11 between the Canadian government and the Native people at the turn of the nineteenth century. On the basis of those treaties, contested in the Mackenzie Pipeline debate, white fur-traders, trappers, and corporations gave themselves privileges of ownership with no regard to the Native claim and to the promise made to the Natives that they could live and hunt there "as long as the sun rises, as long as the river flows, as long as this land shall last." Historian René Fumoleau has delved into church and government sources to afford a clear picture of the negotiations for the treaties beginning in 1870 and their aftermath up to 1939." -Publisher. Native American treaty rights. Free Online Library of Books.
Hagan, William T.
Yale University 1976 Dewey Dec. 970.15
"The Story of the Comanches, 1867—1906, is an account of the transformation of a proud and fiercely independent people into apathetic wards of the United States. Archetypal nomads, the Comanches resisted white settlement with
stubborn resistance and challenged assimilationist policy with perhaps more determination than did any other tribe. Through misunderstanding on the part of the Indians, unscrupulous manipulation on the part of whites, and unwitting disregard born of the push of settlement, the Comanches were consigned to a reservation that offered an uncertain future. Hunters and warriors were asked to become farmers and stockmen and to live exemplary lives according to standards of a different culture." -Book jacket. Native American treaty rights. Free Online Library of Books.
See our True Crime Books Free PDF Download
A Sketch of the United States Government's Dealings with Some of the Indian Tribes
Jackson, Helen
Roberts 1888 Dewey Dec. 970.15
"Originally published over 100 years ago, A Century of Dishonor is Helen Jackson's eye-opening sketch of the US government's often shameful mishandling of what was called the 'Indian problem'. Using official documents, Jackson asserts that the government and citizens of the United States were the cause of the 'problems' and not the Native peoples. Broken treaties, inhuman treatment, restricted to reservations unfit for habitation or traditional lifestyles; all of these actions were taken against Indian tribes by a government that treated them with less consideration and compassion than that of a foreign country." -Publisher
Contents: The Delawares – The Cheyennes – The Nez Perces – The Sioux – The Poncas – The Winnebagoes – The Cherokees – Massacres of Indians by whites – The Conestoga Massacre – The Gnadenhutten Massacre – Massacres of Apaches. Native American treaty rights. Free Online Library of Books.