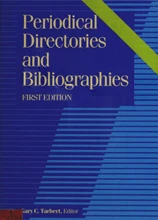 Periodicals index, directory of magazines. Free online periodical index for vintage and modern magazines and journals.

Periodicals Index – Periodical Index Online
Fletcher, W.I. and R. R. Bowker
Pub.wkly Dewey Dec. 050.1
Indexes about 137 English and American periodicals under subjects, with a separate author index. Includes annual index to parts of books, essays, etc., thus supplementing A. L. A. index to general literature; also a necrology, index to important dates, and list of special bibliographies.- A.L.A.Catalog 1904
Annual volumes 1892-1906, except 1904.
Severance, Henry Ormal. comp.
Wahr 1920 Dewey Dec. 050.1
Alphabetical list with full subject index, giving particulars of place of publication, frequency of issue and price; useful to large libraries.- A.L.A. Catalog 1912-1921
Fulton, Len, ed.
Dustbooks 2009
Contains informative entries for periodicals and book publishers, listed in alphabetical order, followed by regional and subject indexes.
with supplementary indexing, 1900-1922
Cushing, Helen Grant and Adah V. Morris, eds.
Wilson Dewey Dec. 050.1
2 Volumes
an annotated guide to approximately 350 directories, bibliographies, and other sources of information about English-language periodicals, from 1850 to the present, including newspapers, journals, magazines, newsletters, yearbooks, and other serial publications
Tarbert, Gary C., ed.
Detroit: Gale Research 1987
The first part lists the directories alphabetically and provides information about each. This is followed by a subject index with more than 150 categories that "helps the user establish which publications describe periodicals in a particular subject area."
Walter, Frank Keller
American Library Assoc. 1918 Dewey Dec. 050.1
Annotated list of over fifty periodicals, with information upon periodical indexes and selection for a small library. – A.L.A. Catalog 1912-1921
Fletcher, W.I., Poole, W. F. eds.
Houghton Dewey Dec. 050.1
Includes Volume 1 (2 parts) covering 1802-1881; supplemental volumes 2-6 covering 1882-1906.
Wilson Dewey Dec. 050.1
Consolidation of the Reader's guide to periodical literature (v. 1 Jan. 1901) & Cumulative index to a selected list of periodicals (v.l Jan. 1896) Indexes 62 periodicals, a few of little value, nearly all general. Includes reviews, poetry and portraits.- A.L.A.Catalog 1904
All five cumulated volumes (1-5) covering 1900-1921.