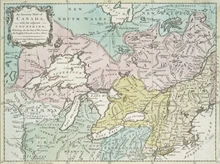 Old maps of North America online, historical maps Canada, maps of colonial U.S. Large online map collections with free access.
About 2,200 maps from the late 18th century; mostly of locations in North America. Norman B. Leventhal Map Center
138 Maps from the Beinecke Library at Yale University.
See our links to free collections of historical U.S. maps
28 sets, nearly all for towns in Ontario. McMaster University Library.
Maps of the U.S. & territories, and parts of
Canada and Mexico. NY Public Library.
See our page of free books on the history of Canada
20th century maps for auto travel for the U.S., Canada and Mexico, and some in Latin America. Perry-Castaneda collection.
See our links to free Canada newspaper archives
50 early Canadian maps; 1556 to 1857, telling story of the discovery and exploration of North America. McGill Univ.